History has a way of repeating....
Knowledge brings forth power.....
Rise on November 2, 2010 and Vote......

Lady Cage' Campaign Committee Team 2010
Standing: Clarence, Reatha Simons, Ayana & Keith McCowen, Chris. Seated: Linnard, Lady Cage, Sam Yue
Mr. Mike Alexander (TeaPac Chair) speaks at Lady Cage' Campaign Event 10/8/10
To be an Active Voter means analyzing the Pros
and Cons, choose an action, then make a stand.
Cage collaborates with Bd. of Supervisor Mike Antonovich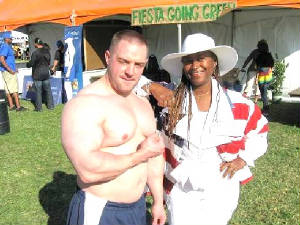 MR CALIFORNIA 2006, shows off his fitness to Lady Cage at LaBallona Festival in Culver City 8/2010